Stocks & ETF Tracker Database Management Software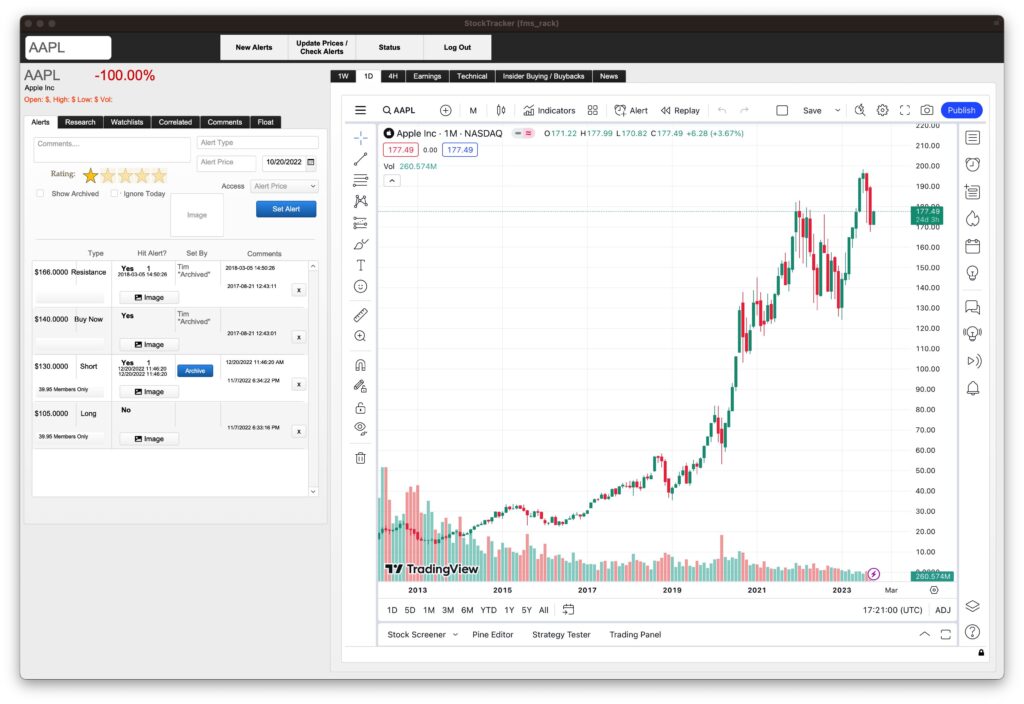 We developed a stock tracking program, a powerful and versatile tool designed to empower private funds and investors with comprehensive real-time insights into the world of stocks, ETFs, and options. Our program has been meticulously crafted to provide users with a feature-rich experience that goes beyond simple price tracking. Explore the numerous capabilities that make our program a game-changer in the financial market.
Key Features
Unlimited Alerts
Set unlimited alerts on each stock, ETF, or option.
Customize your alerts based on specific conditions, ensuring you never miss a trading opportunity.
Calendar Date
Seamlessly integrate calendar dates with your trading strategies.
Plan and execute your trades with precision, keeping important dates and events in mind.
Float Analysis
Access valuable float analysis data to make informed trading decisions.
Stay ahead of market trends with comprehensive insights into supply and demand dynamics.
Watchlists
Organize and monitor your favorite stocks in watchlists.
Efficiently track and manage multiple portfolios with ease.
Correlated Instruments
Identify and track correlated instruments for a more holistic view of the market.
Understand how various assets interact and impact your investments.
Real-Time Charts
View real-time stock charts integrated from TradingView within our database.
Analyze market movements and trends as they happen, right at your fingertips.
Categorized Price Alerts
Categorize price alerts into up to 30 different categories, including long-term, short-term, intermediate, 30-day, 60-day low, 1-year low, 3-year low, and 5-year low.
Tailor your alerts to match your specific trading strategies and objectives.
Alert History
Store triggered alerts for review and analysis.
Easily access historical data to refine your trading strategies over time.
Newsletter Integration
Create newsletters with curated alerts and insights.
Deliver them to subscribers via email or real-time alerts, keeping your audience informed.
User Comments
Foster a sense of community by allowing users to leave comments and insights.
Share knowledge and engage with like-minded traders.
Multiple Time Frames
View different time frames on the integrated charts.
Analyze stock performance over various periods, from minutes to years.
Elevate Your Trading Game
Our Stock Tracking Program is built to cater to both novice and experienced traders. Whether you're an active day trader or a long-term investor, our program equips you with the tools and information needed to make confident trading decisions.
Get Started Today
Join the ranks of successful traders and investors who rely on our Stock Tracking Program. Take control of your financial future, streamline your trading strategies, and stay informed in real-time.
Ready to get started? Contact us today to learn more about our program and how it can revolutionize your approach to stock trading.