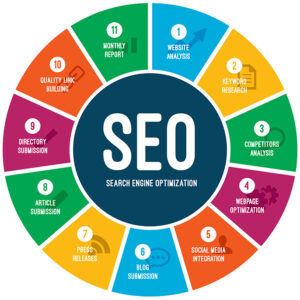 When you are located in orlando florida and have a website that is not optimized for search engines, it can feel like you are just wasting money on your site. We can help with that! You need your website to be optimized so new clients will be able to find your orlando florida services!
The truth is that creating a website is only half the battle in attracting new customers. Without proper SEO, or search engine optimization, many of your customers will have no way to find your orlando business. db Tech Design, LLC specializes in Orlando search engine optimization that will bring an abundance of free targeted customers straight to your website.
How does Orlando Internet Marketing help? Instead of paying for customers to visit your website via traditional advertising methods like the yellow pages, db Tech Design, LLC uses search engine optimization methods in the orlando and florida areas to encourage search engines like Google to visit and rank your web pages high for keywords that are important to your company. Why spend money to get new customers when you can receive targeted customers every day for free from the search engines?
Make no mistake; search engine optimization is not an easy task. If it were, then every site would rank highly. It takes a professional that knows the constantly changing search engine environment to get a site not only ranked highly in the search engines, but in a position to stay there.
Can't I Just Get A Book On Search Engine Optimization? Yes, you can. However, bear in mind that the search engines constantly change their algorithms, or rules, for ranking. What that means for you is that the book you read today may be out of date tomorrow. Even worse, things that work today could get your site banned in the search engines later, as they protect themselves against spam.
By using a professional seo company in orlando like db Tech Design, LLC, you are guaranteed to work with a company that is up to date on the latest optimization and internet marketing techniques. For more information, just contact db Tech Design, LLC by using our contact form or by calling 407-572-5026.